More often than not, if you see fireworks in our night sky around Phoenix, Arizona, you're enjoying the craftsmanship and artistry of Fireworks Productions of Arizona. Why do others put their confidence in us?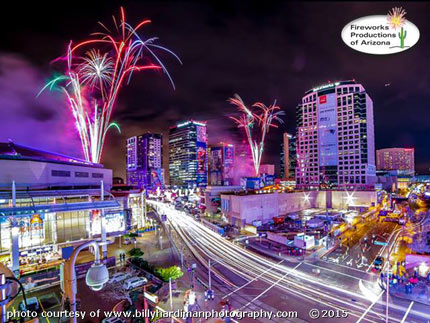 RELIABLE:
We've been presenting safe, affordable, spectacular fireworks entertainment for thousands of people across Arizona for over 50 years. We continue to satisfy our clients and their guests.
SAFE:
We provide the highest amount of insurance protection ($10 million.) included as your security for every fireworks display. We don't have to special order this protection for you, it's our standard. Piece of mind for your event.
ENTERTAINING:
We provide 500 – 600 fireworks displays per year in Arizona, more than any other company in the state. People love what we do!
REQUESTED:
We provide fireworks and displays for over 90 communities on the 4th of July. We work hard to continue to be their "Preferred Provider."
TRUSTED:
Arizona's most requested and trusted fireworks company to:
• All Professional and College Sports Teams in Arizona
• Meeting and Event Planners
• Wedding Planners
• Local and State High Schools
• Native American Communities
• Civic Organizations
• City Parks & Rec Departments
PROFESSIONAL:
We are currently the only fireworks company to receive an A+ Accreditation from the Arizona Business Bureau. It's our customer service, our customer satisfaction.
PREPARED:
We are currently the only fireworks company state-certified by the Arizona Department of Gaming. Also, we are licensed by the U.S. Department of Transportation (DOT) and Bureau of Alcohol, Tobacco, Firearms & Explosives (BATFE). We are ready to work anywhere in Arizona, anytime.
AFFORDABLE:
We have pyrotechnic products to suit every situation, every event. Small displays, huge displays – we work with your goals and needs.
SKILLED:
All of our licensed Head Pyrotechnicians attend our fireworks training school as well as receive their certification from either Phoenix or Tucson. This means your licensed Head Pyro has been trained and legally certified to provide a fantastic and safe display for you.
COMMITTED:
This is what we do; this is all we do; year-round, night and day. Excellent Pyrotechnics are our sole focus. We've been called "Arizona's Experts."
EXPERTISE:
We provide the number 1 attended fireworks training school for Arizona Fire Departments & Inspectors. We lead the state in educating the Authorities Having Jurisdiction.
Contact Us Today!